About HSA
Hydraulic Seals Australia (HSA) leads the hydraulic seals market in providing custom-engineered and OEM hydraulic components. With manufacturing and warehouses located in Melbourne West, Melbourne East, Sydney, Newcastle and Brisbane, HSA provides quality products along with highly trained professionals, each employee working directly with the customer from procurement to delivery and inventory management.
Drivers to the Cloud
HSA has been with WOLK for some time and as such has matured it's use of AWS services along the way. Originally HSA was running an end of life on-premise server solution which was extremely noisy and caused a disturbance to the workplace to the point where people no longer wanted to sit in the office. After experiencing numerous problems with this ageing solution due to ageing hardware and software, HSA decided to look for an alternative solution to overcome the challenges.
Before moving to WOLK, HSA decided to abandon their physical servers and move to a private hosting solution, belonging to a third-party private vendor. But with the provider failing to address the company needs and not being able to deliver the demand, HSA was facing new problems. There were multiple issues relating to the underlying hardware and configuration used by the vendor – oversubscription, slows and extended periods of outages ranging in days rather than hours or minutes were very common.
"We were exhausted by the constant issues we had to deal with relating to the third-party who hosted the servers for the company" said Kelly Barrett, HSA. "WOLK technology brought us hope and faith that we could overcome these issues by moving to AWS" she further stated.
Why Amazon Web Services (AWS)
With the disappointing experience of on-site and private cloud server offerings, HSA was looking for a reliable, agile solution that could cater for their growing requirements without the huge capital outlay.
Being the world's biggest and most reliable public cloud provider, moving to AWS gave HSA a lot of certainty that their data would be safe. There would not be capacity or speed issues and all branches would have the same experience when using shared company resources.
HSA had big growth plans and needed a solution that could scale with them, while being able to stay within budget.
The Benefits of Working with AWS and WOLK Technology – an AWS Advanced consulting partner
HSA had been through a rough time with regards to their IT environment and needed a robust, performant solution that would not break the bank and could grow with them. WOLK understood the customer needs, especially the desire to be able to launch new branches with minimal fuss so WOLK implemented an EUC (End User Compute) environment for HSA to meet their needs. Because of external factors, there was a very small time window during which WOLK managed to successfully migrate HSA from their old private cloud hosting facility to AWS.
Previously, HSA had regularly experienced slows when someone at the branch level uploaded files or synchronized their Documents or Photos from their local machine to the server. There were also a couple of incidents relating to lost files, file corruption and or virus related damage that goes hand in hand with the threat of losing a device with confidential company data on it. Moving all compute resources to the cloud and keeping the data secure meant that the endpoint devices no longer had an influence on the user experience. We removed the need for endpoint devices to contain any data and we removed the need for a VPN between branches – this has significantly improved the customer's security posture. Backups are automated, data is encrypted, users are kept away from data and the payroll system and data is no longer on shared resources.
WOLK provide our customers with a simple per user cost for usage and support, providing the customer with an easy to calculate growth path. HSA recently opened a new branch in Melbourne which was made very simple thanks to their scalable AWS environment. The IT / communication part of this go-live took mere minutes. WOLK pre-ordered an NBN connection, supplied the needed equipment for the new branch and configured the Firewall to use a 4g connection until the NBN went live, allowing the branch to start trading as soon as they were granted occupancy of the building.
During periods where access to the office is restricted, staff have the option of working from home with the same efficiency as working from the office, even if using BYOD home grade equipment. The ease of switching from office based to remote working is one of the key advantages to having a cloud native end user compute solution.
So what did WOLK do for HSA?
Due to time constraints and the technology stack already in place, WOLK migrated HSA to AWS using a lift-and-shift method from the private cloud hosting facility. This was partly done to reduce pushback from users by completely changing the technology they used as the users were reluctant to change. There was no time to retrain staff at that point as they had only just learned how to use the previous systems. We implemented a classic Microsoft Terminal Server environment and migrated all users across all branches over to the new infrastructure – going offline on a Friday afternoon and being live on the new systems on the Monday at 9am. This also included an Office 365 migration at the same time.
HSA used this system for several years, slowly adding more and more services to the mix as they grew and matured within the AWS portfolio. A need arose to keep the payroll system completely isolated from the rest of the shared systems due to incompatibility with software versions, so we implemented Workspaces for that purpose and the rest of the users continued to use the Terminal Services environment and it worked really well.
The time came to think about modernizing again, based partly on the age of the operating systems used in various parts of the infrastructure and changes in Microsoft licensing. It was clear that the best option at this point was to move all users to Workspaces and remove the ageing Terminal servers.
As prescribed by the Well Architected Framework, we conducted a Well Architected Review with HSA's new GM and modernized all components of their environment. This means that every component is now once again under Microsoft support, is modern and the account as a whole has had a refreshed look at security and compliance. This is something we look at as part of our managed services ongoing, but taking the time and reassessing with the client (especially if there is new management) by conducting a Well Architected Review is key.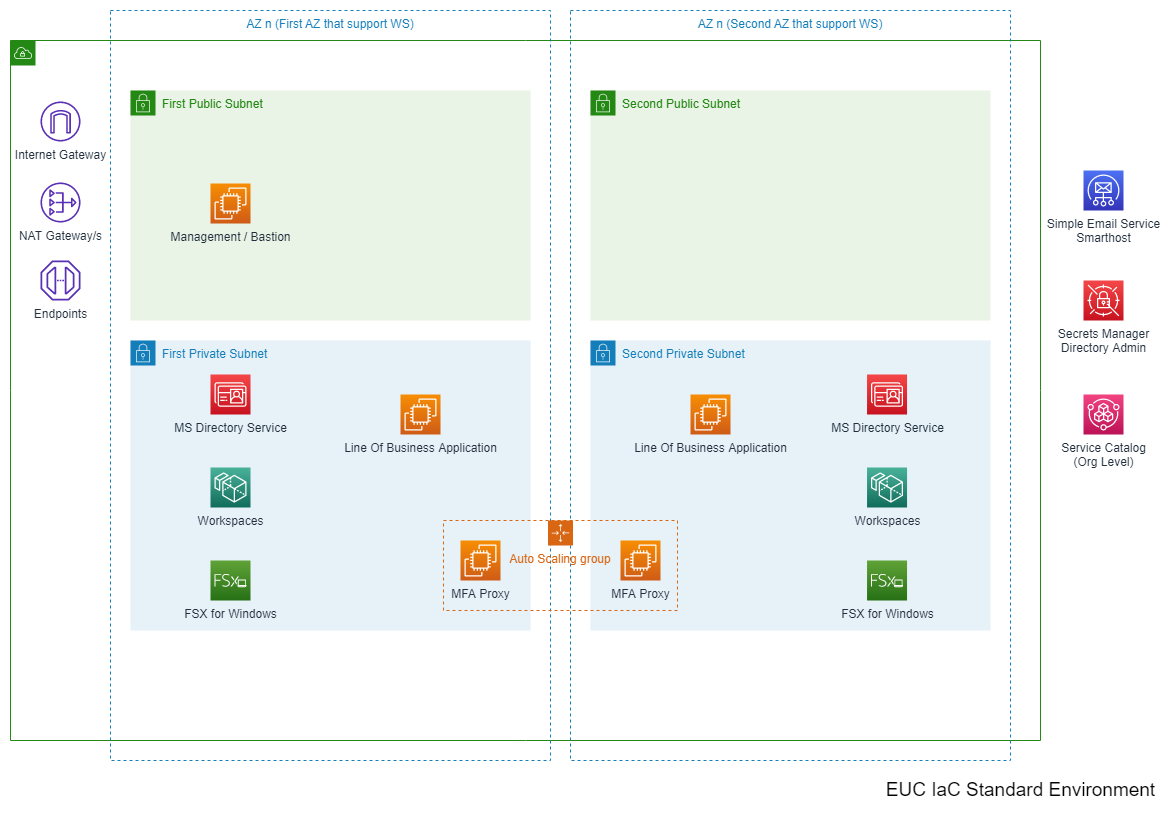 Technologies used within this environment include but are not limited to:
– Organizations
– Cloudformation
– EC2
– Config
– GuardDuty
– KMS
– Secrets Manager
– Systems Manager
– Workspaces
– FSx
– Lambda
– Route 53
– Cloudfront
– S3
– SES
– SNS
– Cloudtrail
– Cloudwatch
– Backup
In the SMB segment it is also prudent to understand that sometimes there are valid business reasons why clients use certain technologies and not others. For example, using a SQL server hosted on EC2 is perfectly fine if the customer is using a line of business system that needs features that are simply not available when using an RDS solution.