About Deaf Services(DS)
Deaf Services (DS) is the prominent service provider for the Deaf and hard of hearing community with a focus on community and empowerment. Deaf Services are a not-for-profit organisation working with the community to enhance services and programs that benefit Deaf and hard of hearing adults and children across Australia. Deaf Services provide a broad range of services including ageing support, lifestyle support, community integration, child education, interpreting and sign language education.
Why Amazon Web Services (AWS)
Deaf Services host several workloads on AWS and when it came time to implement an EUC (End User Compute) environment it made sense to build that on AWS. Deaf Services implemented an EUC solution using Amazon Workspaces for roughly 180 members of staff to be able to work remotely. The solution was rapidly implemented and for the most part was working really well.
Overview of the challenge
There were a few challenges that lead to DS working with WOLK Technology on a AWS Well Architected Review. For DS the main challenges were a lack of visibility of the state of the Workspaces, users complaining of slow login times and a blown out budget.
What is AWS Well Architected
AWS Well-Architected helps cloud architects build secure, high-performing, resilient, and efficient infrastructure for their applications and workloads. Based on five pillars — operational excellence, security, reliability, performance efficiency, and cost optimization — AWS Well-Architected provides a consistent approach for customers and partners to evaluate architectures, and implement designs that can scale over time.
The AWS Well-Architected Framework describes the key concepts, design principles, and architectural best practices for designing and running workloads in the cloud. By answering a set of foundational questions, you learn how well your architecture aligns with cloud best practices and are provided guidance for making improvements.
The Benefits of Working with AWS and WOLK Technology – an AWS Advanced consulting partner and "Amazon EC2 for Microsoft Windows" Solution Provider
WOLK worked with DS on a Well Architected Review with a particular focus on the Cost pillar. Through account visualisation and the Well Architected Review process we analysed the environment, customer needs and costs. We noticed that most staff worked more than 2 hours per day on average and some staff complained of connectivity issues in the mornings.
WOLK changed the running mode of the Workspaces fleet from "Auto-Stop" to "Always On" which gives DS a fixed monthly cost which helps with cost planning and analysis. "Auto-Stop" is great for users who work only a few hours at a time, giving a small monthly cost with a small hourly charge. If the service is used more regularly the hourly costs aggregate and eventually cost more than an "Always On" solution would, with fixed monthly costs.

WOLK then implemented a daily restart of the Workspaces instances, greatly reducing the number of issues the users were experiencing upon login. Combining the "Always On" option with a daily restart meant that the users had a much quicker login experience than before, saving an estimated 3 to 4 minutes per user per day. With 180+ users that very quickly adds up to a lot of wasted time waiting.
Moving DS from "Auto-Stop" to "Always On" and implementing the changes listed above saved DS roughly $4 000 per month in direct AWS usage costs and a further conservative estimate of $9000 in lost productivity savings.
WOLK implemented a 3rd party monitoring solution for the Deaf Services internal IT helpdesk to monitor the health of the EUC fleet, giving the IT helpdesk the power to rapidly see and fix issues before being contacted by end users.
WOLK also supplied DS with a dashboard which shows their compliance with the Well Architected standards from an account level while giving a daily snapshot of predicted vs actual vs budget cost.
Using Amazon Workspaces has been a great benefit for DS staff working from home during the Covid pandemic. Going forward DS believes that productivity will be maintained as they transition back into a more traditional / hybrid workplace as they know that the majority of staff will never return to the office.
So what did WOLK do for DS?
DS already had an AWS account with a production workload. Due to urgent work from home demands DS had created ~180 Workspaces to enable their users to continue functioning. For the most part this was a easy and smooth project and it was deemed a success.
The DS servicedesk were getting a fair amount of tickets and user complaints due to slows and unresponsive Workspaces instances. DS contacted WOLK to help, we recommended that we conduct a Well Architected Review.
WOLK found that the majority of issues came from users trying to log on in the morning, then having issues and slows due to Workspaces and applications resuming. WOLK implemented several changes to the Workspaces workload, first was to change all users from auto-stop to always on. This reduced the wait time in the mornings where users had to wait for their Workspaces instance to come alive. We also introduced a daily restart of the Workspaces instances which took care of slows caused by users never restarting their instances.
Lastly, WOLK gave DS a monitoring solution that checks the health of the individual Workspaces and displays it on a custom dashboard that the support staff can display in the office or in a browser. The result being that the servicedesk could resolve issues on unresponsive Workspaces before the users report them. Combining the time saved when logging on with the time saved by multiple users having non-responsive Workspaces each morning is where the productivity savings are realized.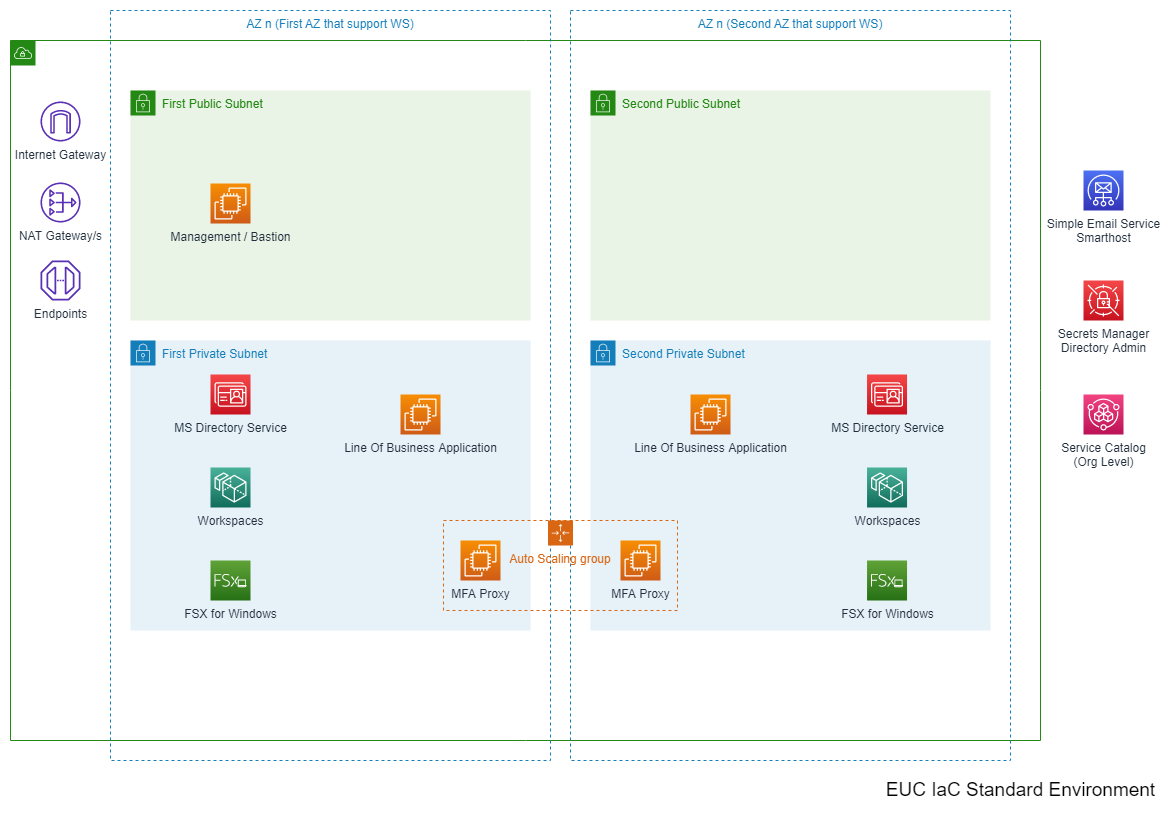 Technologies used within this environment include but are not limited to:
– Organizations
– Cloudformation
– EC2
– Config
– GuardDuty
– KMS
– Secrets Manager
– Systems Manager
– Workspaces
– FSx
– Lambda
– Route 53
– Cloudfront
– S3
– SES
– SNS
– Cloudtrail
– Cloudwatch
– Backup
– Direct Connect